Register below for the Gigantic Century, 50, or 20 Mile, Saturday August 28th, beginning and ending at the Gigantic Bicycle Festival grounds.
Ride Start is from the Centennial Fields Park North West entrance. The starting line is open from 6am.
Century riders departure time is from 6:30am to 7:30am.
50 mile riders departure time is from 7:30am to 8:30am.
20 mile riders departure time is from 8:30am to 9:30am.
Route:
Century and 50 mile riders follow the same route North West until about mile 20, at which point 50 Milers loop back. Century Riders continue North and West towards Woodinville and Duvall, and return to the festival grounds winding through the (gorgeous) Snoqualmie River Valley. 20 mile riders follow a scenic tour of the Snoqualmie Valley, on a fairly flat route winding along forests, rivers, and llama farms.
Route Maps & Elevation can be found on our
Ride With GPS page
.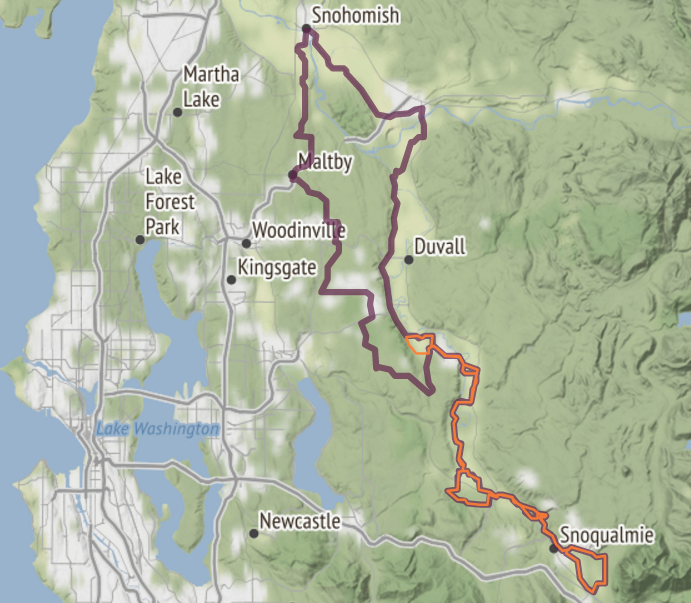 Ride Support:
Supported rest stops are found every 15-20 miles at Redmond, Duvall, and Carnation (
Jubilee Farms
).
On route mechanical support will be provided. Labor is free, but please be prepared to pay for parts. Support vehicles and bikers will be out along the routes with water, tools, patch kits, snacks, and first aid kits.
The camp grounds are hosted by Meadowbrook Farms, a short 100 meter walk from the South East festival gate. The camp grounds open from 5pm Friday and pack up at 8pm Saturday.
Packet Pickup vs. Mail
Register by August 2nd to have your packet mailed. For riders signing up after August 2nd, we'll have your rider packet at the festival merch tent Friday August 27, and at ride start Saturday August 28. Just bring a photo ID.
Please double check your mailing address! If you are not able to receive mail or have questions, just say hi through the contact form below.
Vehicle Parking
If you are planning to arrive Friday, there is field parking at Meadowbrook Farms. Continue East on SE Park Street and look for banners saying "Parking".
If you are just planning to arrive Saturday morning and hop on your bike, there is Saturday only parking at Snoqualmie Elementary. The entrance to that parking lot is just to the West of us on SE Park Street.
Notes
Required fields have a
*
next to them.